Recrutamento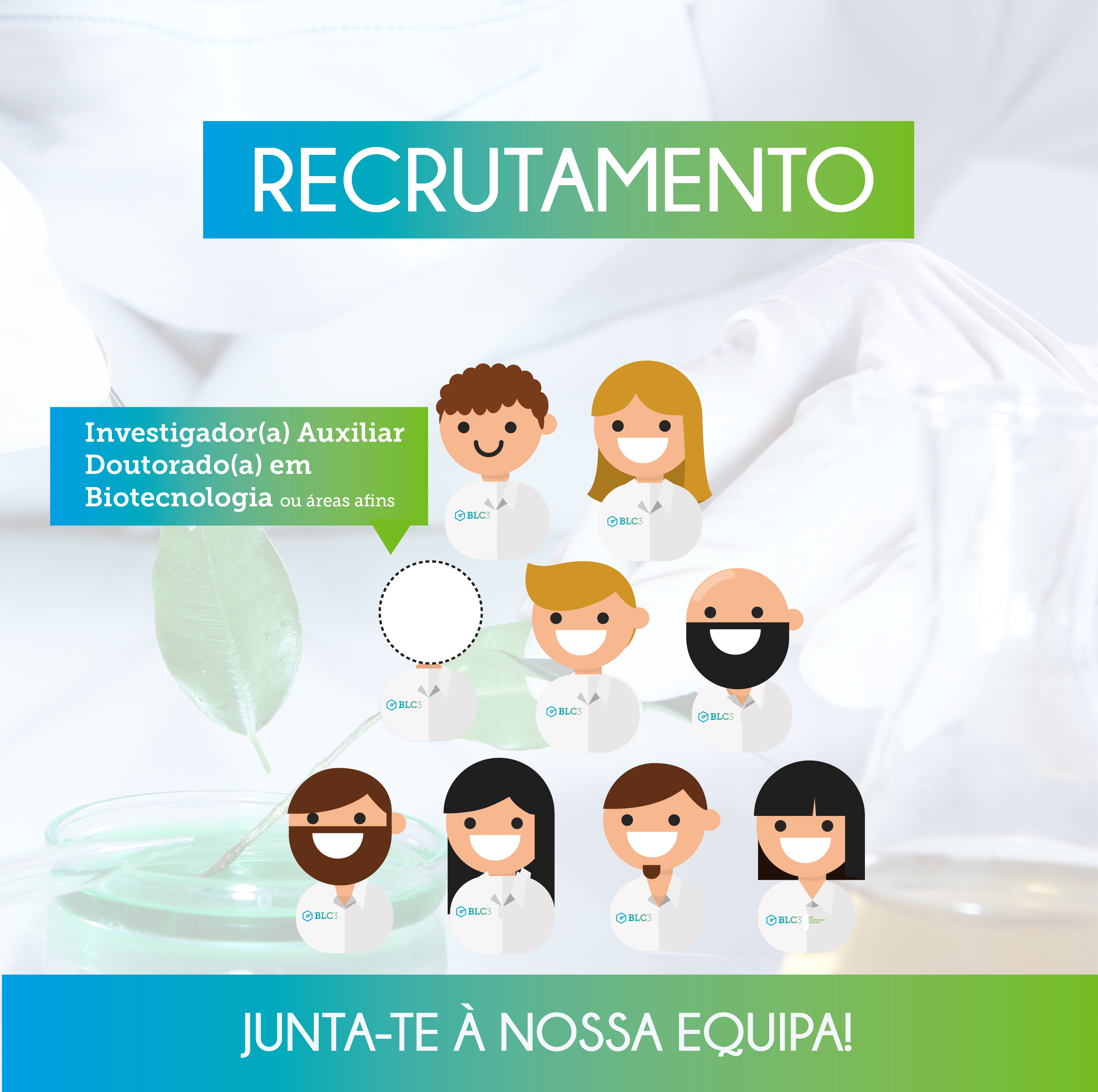 Investigador(a) Auxiliar Doutorado(a) em Biotecnologia e áreas afins /
Auxiliar PhD Researcher in Biotechnology and related área
Edital
Investigador(a) Auxiliar Doutorado(a) em Biotecnologia e áreas afins
Auxiliar PhD Researcher in Biotechnology and related área
• ORGANISATION/COMPANY
Associação BLC3 - Campus de Tecnologia e Inovação
• RESEARCH FIELD
Biological sciences› Biological engineering
• APPLICATION DEADLINE
28/07/2021 23:00 - Europe/London
• LOCATION
Portugal› Oliveira do Hospital
• JOB STATUS
Full-time
• OFFER STARTING DATE
02/08/2021
• REFERENCE NUMBER
BLC3_FCT_2021_1
OFFER DESCRIPTION
A Unidade de Investigação Centro Bio R&D, pertencente à Associação BLC3 – Campus de Tecnologia e Inovação deliberou abrir concurso de seleção de um doutorado para o exercício de atividades de investigação e inovação, em regime de contrato de trabalho a termo incerto, ao abrigo do Código do Trabalho. O presente aviso destina-se ao provimento um (1) lugar de doutorado, promovido pelo Programa FCT – Fundação para a Ciência e a Tecnologia com a referência UIDP/05083/2020.
The Centro Bio R&D Unit, belonging to the Association BLC3 – Campus of Technology and Innovation, decided to open a competition for the selection of a doctorate for the development of innovation activities, under a uncertain-term employment contract, under the Code of Work. This notice is intended to fill one (1) PhD position, promoted by the FCT Program – Foundation for Science and Technology with reference UIDP/05083/2020.
Benefits
A remuneração mensal bruta associada à prestação do trabalho corresponderá a um valor de 3.201,39€ ao qual acresce o respetivo subsídio de alimentação. O trabalho será desenvolvido nas instalações da BLC3 em Lagares da Beira – Oliveira do Hospital, ou noutros locais necessários à execução das atividades. Legislação aplicável na celebração do contrato: Contrato de trabalho a termo incerto nos termos do DL nº 57/2016, de 29 de agosto, alterado pela Lei nº 57/2017 de 19 de julho. O regime de exercício de funções é de dedicação exclusiva a tempo integral.
The monthly remuneration corresponds to a value of €3,201.39, plus the respective food allowance. The work will be carried out at the BLC3 facilities in Lagares da Beira – Oliveira do Hospital, or at other locations necessary for carrying out the activities. Legislation applicable to the conclusion of the contract: Uncertain-term employment contract pursuant to Decree-Law No. 57/2016, of 29 August, amended by Law No. 57/2017 of 19 July. The regime for exercising functions is exclusive full-time dedication.
Eligibility criteria
Os(as) candidatos(as) deverão ser titulares do grau de Doutor na área de Biotecnologia e áreas afins. O domínio falado e escrito da língua inglesa é condição necessária para admissão.
Candidates must hold a PhD degree in the area of Biotechnology and related areas. The spoken and written command of the English language is a necessary condition for admission.
Selection process
Citérios de avaliação: As candidaturas consideradas admissíveis serão avaliadas segundo os seguintes métodos:
Critério A – Avaliação científica e curricular, com o peso de 40%, pontuação de 0 a 5:
A1: Da produção científica, tecnológica, dos últimos cinco anos considerada mais relevante pelo candidato (10%);
A2: Das atividades de investigação prática, desenvolvidas nos últimos cinco anos e consideradas de maior impacto pelo candidato (10%);
A3: Das atividades de extensão e de disseminação do conhecimento desenvolvidas nos últimos cinco anos, consideradas de maior relevância pelo candidato (10%);
A4: Das atividades de cooperação com empresas, gestão de programas de ciência, tecnologia e inovação, ou da experiência na observação e monitorização do sistema científico e tecnológico ou do ensino superior, em Portugal ou no estrangeiro (10%).
Os três candidatos com a pontuação mais elevada serão submetidos a uma entrevista:
Critério B - Entrevista, com um peso de 60%, pontuação de 0 a 5.
Para efeitos da decisão, os candidatos serão ordenados de acordo com a média ponderada da classificação obtida em cada um dos 2 métodos de avaliação, traduzida pela seguinte fórmula: Classificação final= (0.1 x A1 + 0.1 x A2 + 0.1 x A3 + 0.1 x A4) + (0.6 x B).
Submissão da candidatura: A candidatura deve ter a referência BLC3_FCT_2021_1 e incluir o envio dos seguintes documentos: a. uma carta de motivação; b. curriculum vitae detalhado com cópia dos certificados de habilitações e cópia de outros documentos comprovativos relevantes; c. carta de recomendação (opcional); A candidatura deverá ser enviada para o seguinte endereço de e-mail: recursoshumanos@blc3.pt.
Prazo para a submissão das candidaturas: O concurso decorre por 8 dias após a publicação deste Edital. Júri de seleção: Presidente - João Nunes, Vogal - Susana Araújo, Vogal - Hélio Faustino;
Notificação dos resultados: O resultado final da avaliação será enviado a todos(as) os(as) candidatos(as) através de correio eletrónico. A Unidade de Investigação Centro Bio R&D é livre de preencher o lugar ou não, podendo suspender ou dar por terminado o processo a todo o momento, bastando para tal informar todos os candidatos.
Evaluation criteria: Applications considered admissible will be evaluated according to the following methods:
Criterion A - Scientific and curricular evaluation, with a weight of 40%, score from 0 to 5;
A1: Scientific and technological production of the last five years considered most relevant by the candidate (10%);
A2: Practical research activities, developed in the last five years and considered to have the greatest impact by the candidate (10%);
A3: The extension and dissemination activities of knowledge developed in the last five years, considered of greater relevance by the candidate (10%);
A4: Cooperation activities with companies, management activities of science, technology and innovation programs, or experience in the observation and monitoring of the scientific and technological system or higher education, in Portugal or abroad (10%).
The three candidates with the highest score will be submitted to an interview:
Criterion B - Interview, with a weight of 60%, score from 0 to 5.
For the purposes of the decision, the candidates will be ordered according to the weighted average of the classification obtained in each of the 2 evaluation methods, translated by the following formula: Final classification = (0.1 x A1 + 0.1 x A2 + 0.1 x A3 + 0.1 x A4) + (0.6 x B).
Submission of the application: The application must have the reference BLC3_FCT_2021_1 and include the submission of the following documents: a. a motivation letter; b. detailed curriculum vitae with a copy of qualification certificates and other relevant supporting documents; c. recommendation letter (optional); The application should be sent to the following e-mail address: recursoshumanos@blc3.pt.
Deadline for submission of applications: The application runs for 8 days after the publication of this notice.
Selection Jury (Jury deliberation, Minutes nº1/2021): President - João Nunes, Member - Susana Araújo, Member - Hélio Faustino;
Notification of results: The final evaluation result will be sent to all candidates via email. The Centro Bio R&D Unit is free to fill the position or not and may suspend or terminate the process at any time, simply informing all candidates.
Additional comments
Proteção de Dados De acordo com o RGPD – Regulamento Geral de Proteção de Dados, os dados recolhidos serão tratados exclusivamente para efeitos do processamento da candidatura.
Política de não discriminação e de igualdade de acesso: A Associação BLC3, promove ativamente uma política de não discriminação e de igualdade de acesso, pelo que nenhum candidato/a pode ser privilegiado/a, beneficiado/a, prejudicado/a ou privado/a de qualquer direito ou isento/a de qualquer dever em razão, nomeadamente, de ascendência, idade, sexo, orientação sexual, estado civil, situação familiar, situação económica, instrução, origem ou condição social, património genético, capacidade de trabalho reduzida, deficiência, doença crónica, nacionalidade, origem étnica ou raça, território de origem, língua, religião, convicções políticas ou ideológicas e filiação sindical.
Nos termos do D.L. nº 29/2001, de 3 de fevereiro, o candidato com deficiência tem preferência em igualdade de classificação, a qual prevalece sobre qualquer outra preferência legal. Os candidatos devem declarar no formulário de candidatura, sob compromisso de honra, o respetivo grau de incapacidade, o tipo de deficiência e os meios de comunicação/expressão a utilizar no processo de seleção, nos termos do diploma supramencionado.
Data protection in accordance with the RGPD - General Data Protection Regulation, the collected data are processed exclusively for the purpose of processing the application.
Non-discrimination and equal access policy: The BLC3 Association actively promotes a policy of non-discrimination and equal access, whereby no candidate can be privileged, benefited/a, prejudiced/a or private/a of any right or exempt from any duty on the grounds, namely, of ancestry, age, sex, sexual orientation, marital status, family situation, economic situation, education, origin or social condition, genetic heritage, reduced work capacity, disability, chronic illness, nationality, ethnic origin or race, territory of origin, language, religion, political or ideological convictions, and union membership.
Under the terms of Decree-Law nº 29/2001, of February 3rd, the disabled candidate has a preference in equal classification, which prevails over any other legal preference. Candidates must declare in the application form, under a commitment to honor, the respective degree of incapacity, the type of disability, and the means of communication/expression to be used in the selection process, under the terms of the aforementioned diploma.
Date: 2021-07-20
Source: Associação BLC3 - Campus de Tecnologia e Inovação